This page contains valuable information from my first term as Mayor of Maplewood.
THEN & NOW.  During this present campaign, there may be the temptation, by some, to recreate Maplewood's history during 2006-2009.  However, documentation from the time period provides the best account.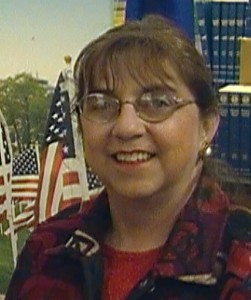 Let's begin with past Maplewood Monthly publications and my Mayor's Corner. Previously when I was mayor,  I felt it was important for me to personally write the Mayor's Corner and not have it written by city staff on my behalf. Half way through my term, certain council members, in an effort to squelch my outreach to residents, voted to limit my ability to publish a Mayor's Corner.
I have always felt that the mayor and the council should have the ability to write in the Maplewood Monthly every month.  After all, they are the elected officials and residents want to hear from them!
Click on the month/year to read the actual article
2006
September 2006    During the summer of 2006, as a result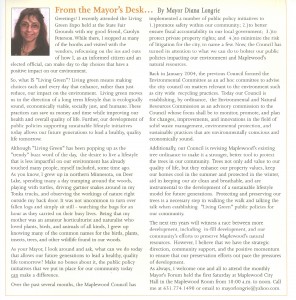 of my leadership,  the ad hoc Environmental Committee (originally formed in 2004) was formally transformed into the Environmental and Natural Resources Commission and created by city ordinance. The first charge of the newly formed commission, again as a result of my leadership role, was to finalize the proposed tree protection ordinance that had been languishing in committee for two years. The Commissioners finalized the language and presented the proposed ordinance to the council for our review, comment and passage by a 4 to 1 vote.  "Protecting and preserving our trees is a necessary step in walking the walk and talking the talk when establishing "Living Green" public policies for our community".
Flash forward to the public policies of the 2012 council.  It is my opinion that the once held Vision of Tree Protection has been lost by the elected officials and city management. The day that hundreds of trees were clear cut from our Gladstone Savannah – a neighborhood preserve belonging to the people – was heart rending, disappointing and a betrayal.  Because the City failed to conduct a tree inventory before the clear-cutting, the City is unable to disclose the exact number of trees felled, the size of the trees or the types of trees.
July-Aug 2006      My summer Mayor's Corner  gave residents an update on the bipartisan Eminent Domain Reforms passed by the MN Legislature. I was invited to be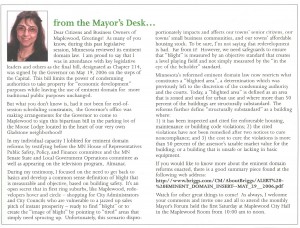 present at the Governor's signing of the bill into law on May 19, 2006.  "In my individual capacity I lobbied for eminent domain reforms by testifying before the MN House of Representatives Public Safety, Policy and Finance committee and the MN Senate State and Local Government Operations committee."   Additionally, I appeared on the television program, Almanac.  My testimony centered upon the need to develop a common sense definition of blight that is measurable and objective, based on building safety.  My involvement in lobbying for these important reforms was highlighted in an article by  Wameng Moua (Hmong Today).
June 2006.          My June Mayor's Corner focused on council outreach, setting community priorities and my vision for White Bear Avenue.  Looking back and re-reading what I wrote back then, my observations and comments remain relevant in 2013.  Today, Maplewood administrators are still talking about creating "a sense of community" and "livable, walkable business districts".  I stand behind what I stated in June 2006: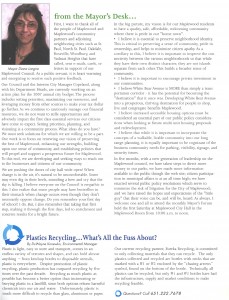 "…we do not want to stifle opportunities and adversely impact the first class essential services our citizens have come to expect.  Setting priorities, planning and visioning is a community process.   …… while it is important to incorporate the concepts of walkable, livable community into our long range planning, it is equally important to be cognizant of the business community's needs for parking, visibility, signage, and security issues."
February 2006.             In my February letter to citizens, I discussed the need for citizens, and elected officials alike, to be the Protectors of our parks and publicly owned open spaces. "…vision includes . . . a commitment that we remain ever vigilant in protecting these lands from the "butcher block" as redevelopment pressures are felt on our neighborhoods." 
I also shared with readers that U.S. District Court Judge Donovan Frank administered my Oath of Office in January when I was sworn in as Mayor.  His words spoken then remain relevant and true today.  "Open access to government is important…these are complex times we live in. What we have in common as citizens is the right to expect that people will be treated with dignity and respect."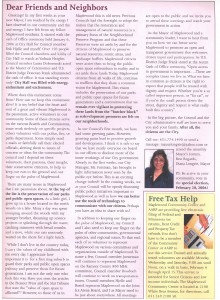 The mayor manages the flow of the council meeting and must strike a balance between those council members who want to sprint through the meeting; those who have opinions to be heard; and the use the council meeting as a platform to communicate information to the citizens so they can be informed.  When I was previously Mayor, there was a place at the table for citizens and their diverse viewpoints – no one was ever told "shut up and sit down" as has become the norm with the current administration.
January 2006.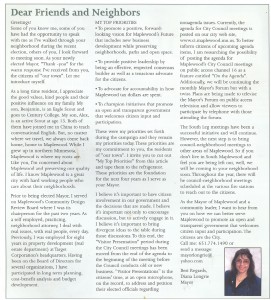 First Mayor's Corner introducing Diana's priorities and commitment to openness and transparency.    "I believe it's important to have citizen involvement in our government and the decisions that are made. I believe it's important not only to encourage discussion, but to actively engage in it."   
I invite you to return from time to time as we add more documents